WILLIAMSON COUNTY AGGIE MOMS CLUB SCHOLARSHIPS

Each year the Williamson County Aggie Moms raise funds to provide scholarships to deserving Williamson County Students* on their way to or currently attending Texas A&M University in College Station. We greatly appreciate your support of this effort.
In 2019, we awarded 13 $1000 scholarships to deserving students with outstanding accomplishments in Academics, Leadership and Community Service.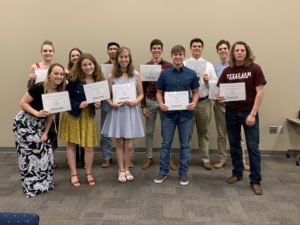 Congratulations to our 2019 Scholarship Winners:
Zachary Bohac – Taylor HS
Courtney Burris – Texas A&M
Jacylyn Campbell – Texas A&M
Matthew Debus – Legacy Carly HS
Rylan Dunaway – Tom Glenn HS
Corrine Dundas – Jarrel HS
Dalton Gibbones – Liberty Hill HS
Lauren McMaster – Hutto HS
Mayson Olszewski – Georgetown HS
Trevor Raum – Georgetown HS
Tristen Rutledge – Eastview HS
Edward Sanchez – Taylor HS
Kylie Sledge – Thrall HS
*Graduates from Round Rock high schools are not eligible for Williamson County Aggie Moms scholarships. Please contact the Round Rock Aggie Moms Club for local scholarship information.