Amazon Smile
The Williamson County Aggie Moms' Club is signed up as a recipient charity for Amazon Smile giving. Automatic donations from everyday shopping sure makes fundraising easy! Just go to smile.amazon.com and look for the charity "Federation of Texas A&M University Mothers Club" with "Location: Georgetown, TX." You might have to scroll a bit to find us, but we're there. 
Pampered Chef Party
The COVID-19 Pandemic made fundraising difficult in 2020-21. The club was able to hold a Pampered Chef party and raise $400 to combine with next year's efforts and award in 2021-22.
Texas Aggieland Bookstore
We have a fundraising partnership with the Texas Aggieland Bookstore, which offers all Aggie Mom "Members" a promo-code (WILCOMOM) for 10% off all in-store and online merchandise (excluding diploma frames and the ring crest). Our club receives 10% from all sales using this code for use in our scholarship fund. So go enjoy the perks of being an Aggie Mom Club Member, while picking up those spirit item necessities!
Golf Tournament

Traditionally, our club hosts an annual Spring golf tournament to raise money for scholarships.  Due to unforeseen circumstances, this year's tournament will not take place.  We hope to resume this tradition next year.  
All money raised is used to fund scholarships for students from Williamson County attending Texas A&M College Station. Last year, we awarded seventeen $700 scholarships and awarded an additional $1,000 spread between ten student organizations at Texas A&M.
Extra thanks to our sponsors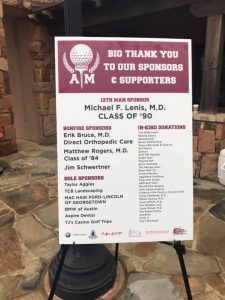 If you are interested in sponsoring our next tournament, contact Gloria Lenis at g.lenis@yahoo.com
Check out some of the photos from our past events.